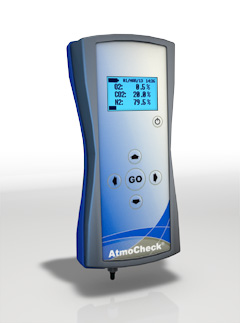 AtmoCheck®
DOUBLE
for checking residual oxygen and carbon dioxide levels in inert gas packaging
AtmoCheck® DOUBLE is a practical battery-operated double analyser for random sample measurement of residual oxygen and carbon dioxide levels in gas-treated food packaging (MAP). This is an ideal analyser for swift, accurate mobile checking at the packaging machine, in the warehouse or in the laboratory.
AtmoCheck® DOUBLE excels out with easy operation, short measuring times and low gas volume sample requirement. The integrated data logger supports traceability and provides complete documentation (HACCP/IFS/ISO).
AtmoCheck® DOUBLE software permits fast, uncomplicated communication and is safe and easy to use. It is equipped with all facilities for converting handwritten measurements to electronic records.
AtmoCheck® DOUBLE - Technical details
Measuring principle
O2 electrochemical measuring cell*
CO2 measuring principle
NDIR Sensor**
Measuring range
0-100% in 0.1% steps
Measuring time
Approx. 10 sec.
Calibration
Simple 2-point calibration
Measurement
Automatic by needle with integral pump
Measurement memory
Circulating memory for 1000 measurements
Interface
USB-Port
Software
AtmoCheck® Data Logger Software
Temperature
Gas/ambient 5-40°C
Display
Backlit graphic display
Shutdown
Automatic when not used for 2 minutes
Housing
Shock-resistant plastic
Weight
Approx. 425 g (without accessories)
Dimensions (HxWxD)
187x106x91 mm (without needle)
Power supply
Integrated rechargeable battery (battery charger included in scope of supply)
Battery charger
110-240 V AC
Standards/building regulations
company certified to ISO 9001
CE marking as per
- EMV 2004/108/EG
- Low voltage directive 2006/95/EG